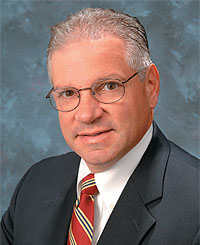 Dominick L. Paragano
Dominick L. Paragano is a custom new home builder, developer and licensed NJ Real Estate Broker with over 30 years' experience in the real estate and construction industry. After graduating Villanova University in 1980 with a BS degree in Finance, Dominick Sr. immediately went to work with his father as a construction manager on a 200 home subdivision.
His experience during this time included everything from site work and hands on construction to sales and contracts. During these 4 years, Dominick Sr. was attending night classes at Seton Hall University until his graduation in 1984 with an MBA in Marketing. In 1984, Dominick Sr. went into his own business building his first house. Over the next few years, he completed 40 more custom homes in Park Ridge Estates.
Throughout his career, Dominick Sr. has continued to build custom homes, including subdivisions and spot lots throughout Morris, Essex and Monmouth Counties, more specifically, Livingston, Essex Fells, North Caldwell, Verona, Chester, Mendham, Mountain Lakes and Spring Lake, as well as other towns. Notable subdivisions include: "Melrose at Mendham" in 1996, a 4-lot subdivision in Mendham Boro; "Old Brookside Estates" in 1998, a 9-lot subdivision in Mendham Township; and "Mountain Lakes Estates" in 2000, a 15-lot subdivision in Mountain Lakes.
In addition to the development of custom new homes, Dominick Sr. has development, leasing and management experience in the commercial real estate and self-storage industries. Notable self-storage development/renovations include: "Paramount Self Storage" in 2002, a ground up development of 5 buildings totaling 60,000 s/f in Stanhope;  "Parkway Self Storage" in 2003, an existing 150,000 s/f factory which was converted to self storage in Bloomfield; "Storage Bin" in 2004, an existing 20,000 s/f facility where Dominick Sr. added a 38,000 s/f building in Hackettstown; "Metuchen Self Storage" in 2007, an 18,000 s/f facility where Dominick Sr. also added 28,000 s/f in Metuchen. Additionally, in 2007, Dominick Sr. developed the 12,500 s/f strip center on Route 46 in Budd Lake known as "Paramount Plaza".
Over the years, Dominick has received numerous awards for his custom built homes and development projects. Notable awards include: NJBA Builder of the Year (2014), NJBA Renovation of the Year (2001), Metro Builder of the year (2010), METRO Best Single Family Home (1997 and 2008). Additionally, Dominick Sr. has served on numerous industry-related boards and committees. Notable positions held include, President of NJ State Builders Association (2012), President of Metro NJ Builders (2007, 2014-2015), NJBA Board of Directors (2004 – present), Metro Builders Board of Directors (1985-1993, 2003- present), NJ Self Storage Association Board of Directors (2005 – 2008) and BPAC Board of Directors (2007 – present). Dominick Sr. serves on the Board of Directors for the non-profit organization, The Shepherds of Youth. Additionally, Dominick Sr. serves on the Advisory Council for the DiLella Center for Real Estate at Villanova University.