Paragano History – A Family Tradition
"I love my work and find great satisfaction in making homebuyers and their families happy with my quality construction"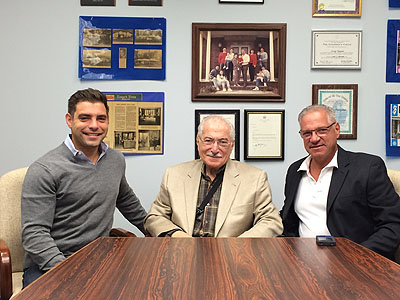 Dominick Paragano learned much of his craft from his father, master builder N. Larry Paragano. The senior Paragano spent many of Dominick's early years teaching the various aspects of the business to his son. Dominick worked with his father for many summers as a youth serving his father as a carpenter, landscaper and mason's laborer.
"My dad is the epitome of the master builder and a true artist," states Dominick Paragano, recalling how his father started instructing him at the early age of 12 in building his first project – a brick barbeque. "I spent hours holding a surveying stick as my father would lay out a home. I worked with my father in every aspect of the building process from mixing concrete by hand to designing a home. I had the opportunity to ask questions of the best builder in the business. That is the kind of education you don't gain from reading books in school. This hands-on training gave Dominick the unique opportunity to develop the ground up skills necessary to be an experienced home builder.
After graduating Villanova University in 1980, Dominick went to work for his father in the family business on a full time basis. At that time Larry Sr. was developing a 200 home project known as Park Ridge Estates, in Cedar Grove, NJ. Dominick was assigned the task of working with a variety of subcontractors in the different fields that comprise the creation of a new home. The education he received was invaluable. Each of the subcontractors in the various trades shared their years of wisdom and experience with him. Dominick learned the entire building process from the perspective of the different subcontractors. He had the opportunity to see how each phase of construction integrated with each other.
Upon his father's retirement from the new home building business in 1984, Dominick created his own home building company. Today that company in known as D.L. Paragano Homes. It was his intention to develop a company that could provide its customers with extraordinary service and attention to detail that few other builder's are able to perform. "Every home we build receives my complete attention, from start to finish," says Dominick, who enjoys strong long-term relationships with his employees, subcontractors and suppliers.
 "Every person that works on my homes knows the other subcontractors and suppliers, involved in the building process. All of us work together to meet the homeowners' high expectations. We are all like family."
Dominick's first task in his own business was to continue his father's vision of building homes at Park Ridge Estates in Cedar Grove. He had learned through his extraordinary education how to deal with the difficult terrain of the area. Dominick's style and attention to detail was making his talents in high demand. By his late twenties Dominick had built over 30 custom homes of his own.
After he finished in Cedar Grove Dominick developed a project in Mendham known as "Melrose at Mendham." The project was a 4 lot subdivision of quality custom homes, with each home situated on over 2 acres of land. The project featured the first of many "Paragano Signature Porches" which have since become the trademark of D.L. Paragano Homes. His covered porches feature mahogany floors with deep bonded sealer, bead board ceilings, skylights, round columns and handcrafted cedar railings.
"Every home we build receives my complete attention, from start to finish."
The next project that Dominick developed was the highly successful Old Brookside Estates, a conclave of 9 custom built homes located next to the pristine Clyde Potts Reservoir. The cul-de-sac, known as Coe Farm Road, is located on the former site of the Old Brookside Greenhouses in Mendham, NJ. The traditional homes ranged in size from 3,400s/f – 5,500s/f. All of the homes combined old world charm with the most sought after contemporary features. "My homes find the proper balance between traditional tastes and contemporary need," states Dominick Paragano.
The last housing tract developed and completed by Dominick Paragano was in 2003. The development known as Mountain Lakes Estates was comprised of 15 custom built homes in Mountain Lakes, NJ. It is a charming exclusive wooded community of traditional homes custom built for the individual home buyers.
Each property was especially challenging because of the exceptionally hilly terrain. Dominick used his years of experience to integrate each home with the unique character of the land. Many of the properties are accented by rock retaining walls and exceptional landscaping. The designs, with their covered porches and traditional lines, blend in with the charm of this old lake town.
Most recently, D. L. Paragano Homes has become more of a family affair with an emphasis being placed on construction in the Jersey shore region. Dominick's wife Lisa has taken control of the design phase of the construction process lending her exquisite touch to the layout of the homes, selections of materials, Kitchen and Bathroom design, and the coordination of interior furnishings. Dominick states, "Lisa never ceases to amaze me with her intuitiveness and ability to bring fresh new ideas to every project she works on." The building process has become a team effort.
Their son, Dominick Jr. heads the commercial fit out and leasing business, and has performed numerous large renovation projects. He brings to the table the ability to work with the latest technology and a different perspective that comes with being part of the younger generation. "As the next generation starts to take over," Dominick adds, "It is now my turn to pass on the torch to my son just as my father did with me." The father and son team has been working together since 2012
Throughout the years Dominick Paragano has built new homes and renovated countless other homes in New Jersey. He has built a portfolio of fine homes in communities such as Spring Lake, Mountain Lakes, Livingston, Cedar Grove, North Caldwell, Short Hills, Essex Fells, Mendham and Mendham Township. Dominick Paragano has no plans in the future to expand the size of his business to mega-builder proportions, noting his preference is to spend most of his time as a hands-on builder staying close to the actual work, rather than hiring a supervising manager. "I love my work and find great satisfaction in making homebuyers and their families happy with my quality construction," said Dominick. "It is nice starting out with a family name that has a solid reputation for excellence. The challenge is to strengthen the reputation even more."